Much is said about the neon lights and the clubs of this destination, but Miami is also known for its beaches! What is the best beach in Miami? We have the answer(s) you are looking for! Join us and live the best vacation experience in this Floridian city. Come on!
BAL HARBOUR BEACH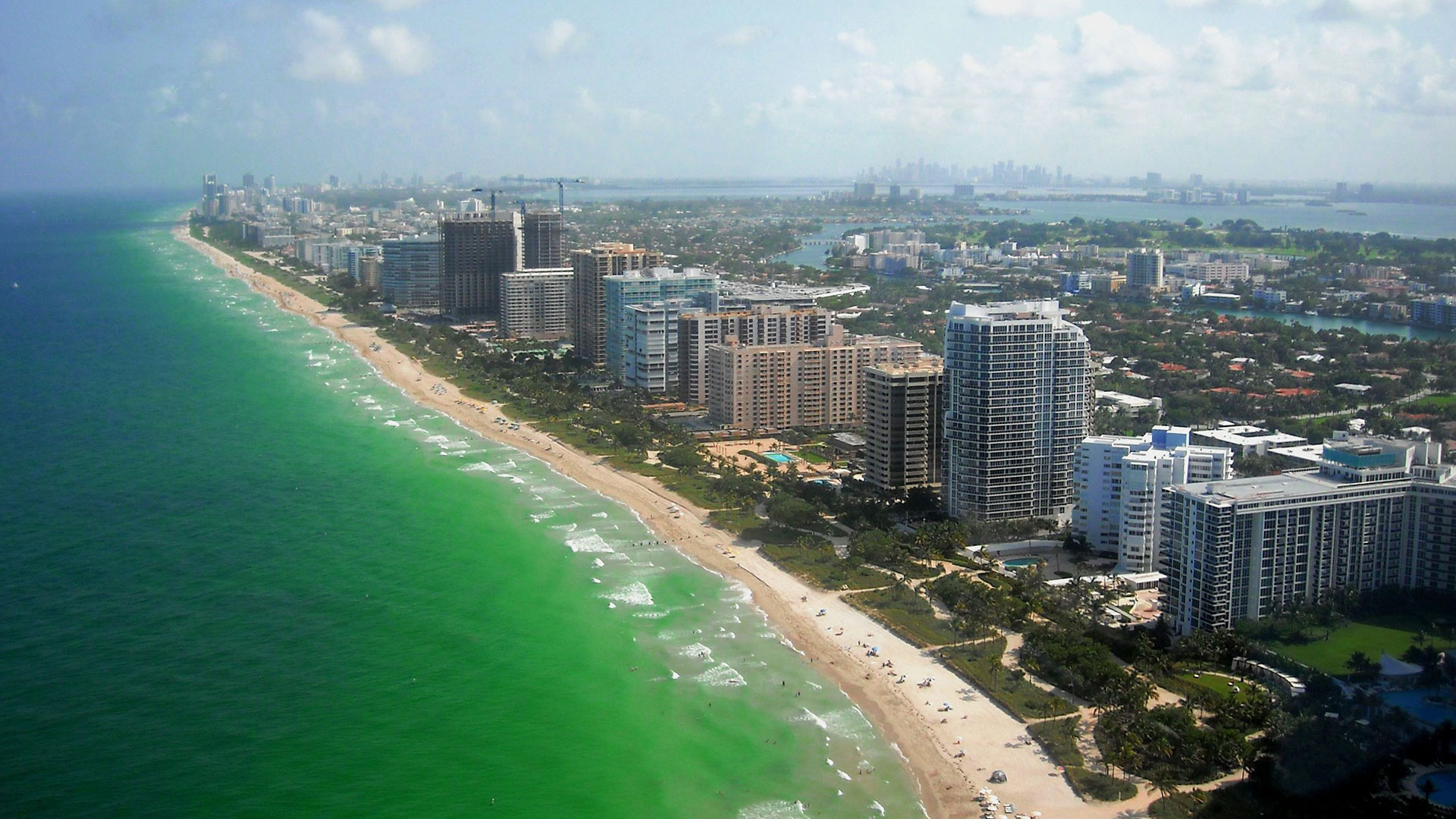 Located between Sunny Isles and Surfside beaches, Bal Harbour is a small stretch of beach surrounded by some of the most upscale and luxurious residences and hotels in all of Miami.
The beach itself could be considered as luxurious as the area in which it is located! In addition, it is said to have the softest and whitest sand in the city.
This beach is ideal for those looking for a quiet and relaxing atmosphere to enjoy the sun or for a quick refreshing dip in the sea.
CRANDON PARK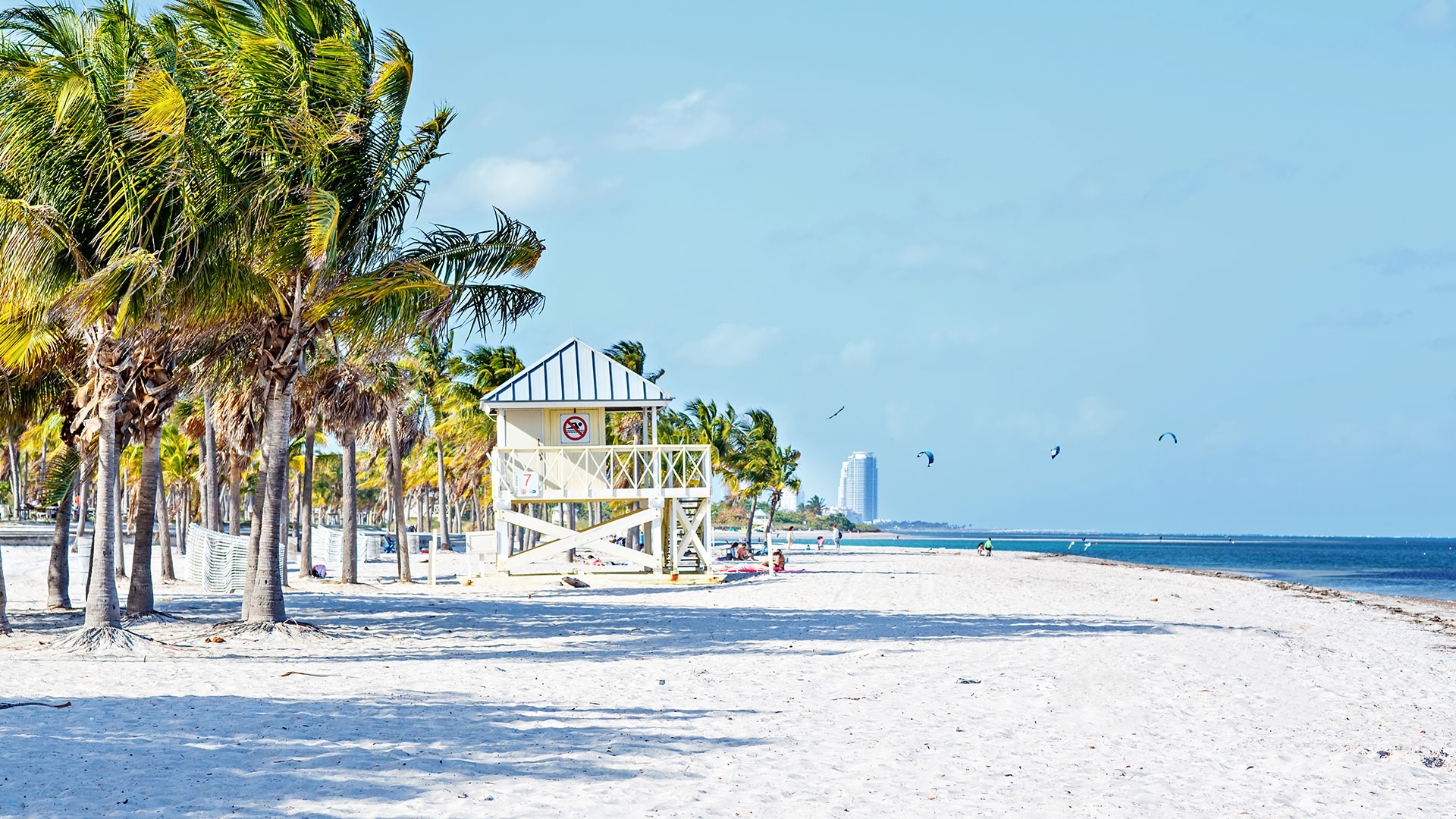 Sizing up to more than 800 acres, to get to this jewel you will have to cross the Rickenbacker Causeway; which connects this paradise with the mainland.
Speaking of its waters, they have a beautiful turquoise hue and calm waves. Its shallow depth has made it the perfect place for families traveling with younglings.
If you are traveling with older children and elders, don't hesitate to take a trip to the tennis centers and golf courses in the area!
#RoyalTip This beach has public grills, so we recommend you buy a good bag of charcoal, your favorite ingredients and enjoy a barbecue on the beach.
HAULOVER BEACH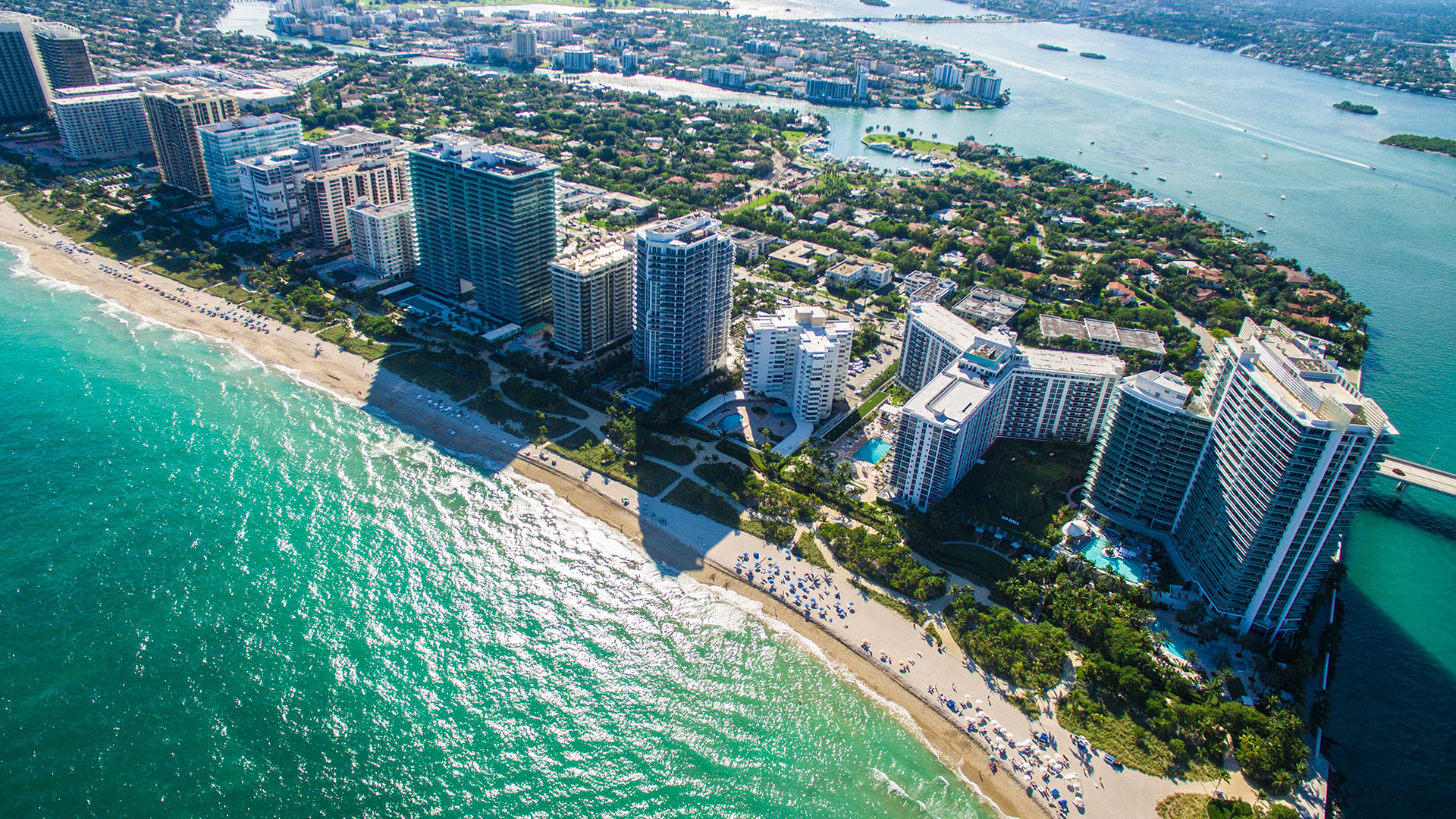 Located between Sunny Isles and Bal Harbour, this area is right in the vicinity of Bark Park, a playground perfect for those who like their furry four-legged friends to tag along.
Breathtaking views, white sand and warm turquoise waters make this a must-visit beach. In addition, here you will find multiple services such as restrooms, picnic tables, water sports and many food trucks. Delicious, don't you think?
Being a very popular place to spend the day, it is likely that, in certain hours of the afternoon, this beach is crowded. Our advice? Arrive early! This assures you a good location to enjoy the beachfront.
LUMMUS PARK
Hey, wake up! And no, you're not dreaming. Located in Miami's iconic South Beach neighborhood, characterized by its vibrant Art Deco style, Lummus Park is a dream-like place.
Swimming, sunbathing and bodyboarding (an activity very similar to surfing) are some of the most popular activities in this area.
On the other hand, and thanks to the popularity of this place, you are very likely to come across models , skaters and even celebrities and celebrities enjoying the sun, walking or jogging on the sand, or cooling off in the waters.
#RoyalTip If you're a fan of photography, 5th and 14th Streets along Ocean Drive offer the perfect backdrop for photos you should definitely post on your Instagram.
NORTH BEACH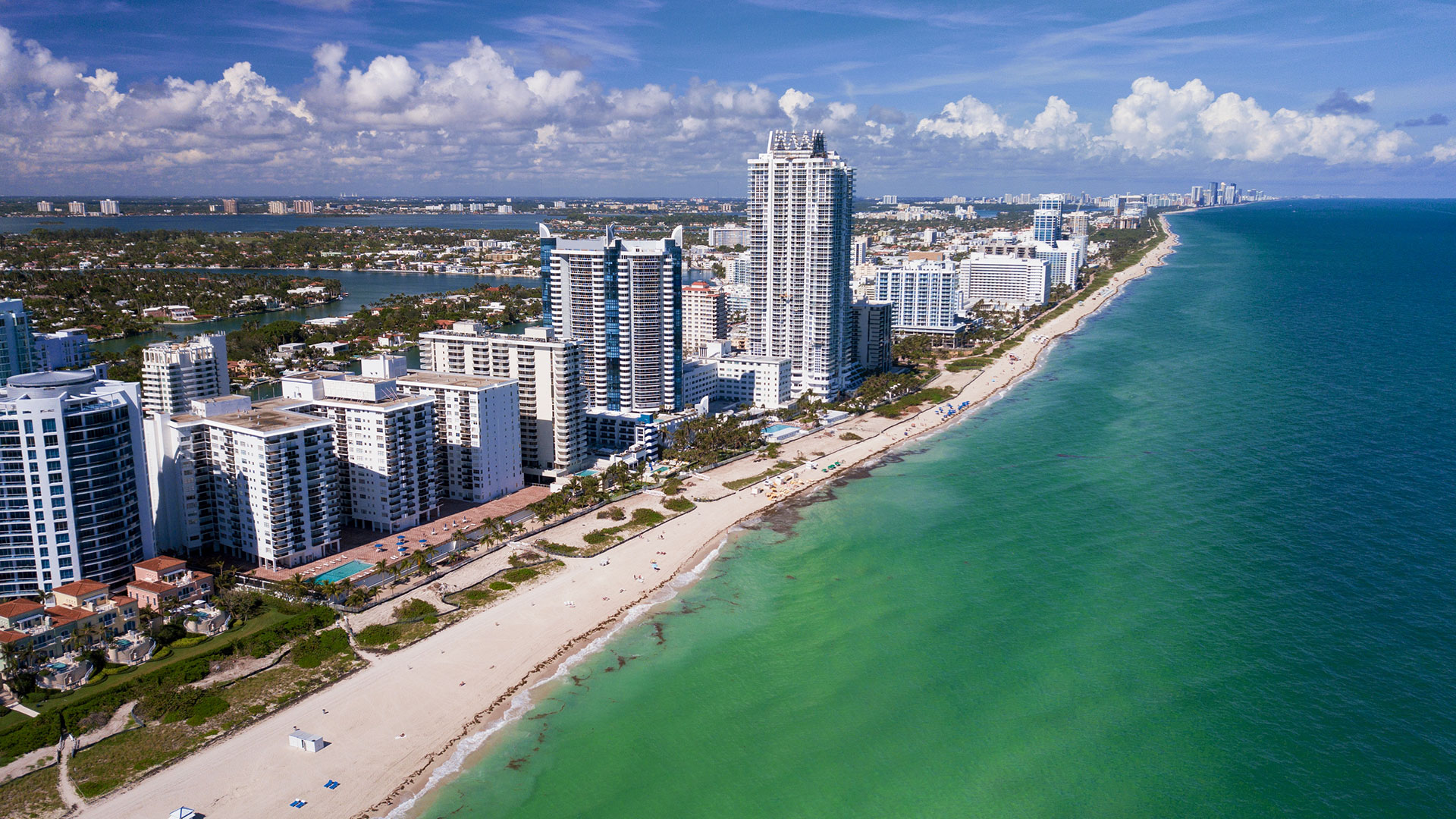 Located just north of the city, North Beach has a boardwalk that is frequently visited by joggers, rollerbladers, bicyclists, and dog walkers!
Its beach has soft sand and crystal clear waters. Nearby, you'll find restrooms, showers, and several commercial establishments such as restaurants and stores.
If you've had enough of the heat, head to North Beach Oceanside, a 28-hectare park full of trees and pavilions, ideal for cooling off and hiding from the sun for a while!
SOUTH BEACH
Welcome to paradise! Without a doubt, South Beach is the most emblematic beach in all of Miami. Positioned right between the Atlantic Ocean and the Biscayne Bay, this beach begins at South Pointe Park and ends right at the entrance of Lummus Park.
This is the place where Art Deco architecture merges with modern design. In addition, here you will find some of the best restaurants in the city, art galleries, museums and nightclubs.
Miles of fine white sand, a lively boardwalk, the iconic and much-photographed lifeguard towers and its sports courts, among others, are just some of the amenities this beach area has to offer.
#RoyalTip: If you want to look and feel like a local, referring to this beach as "SoBe" will get you lots and lots of bonus points!
SOUTH POINTE PARK PIER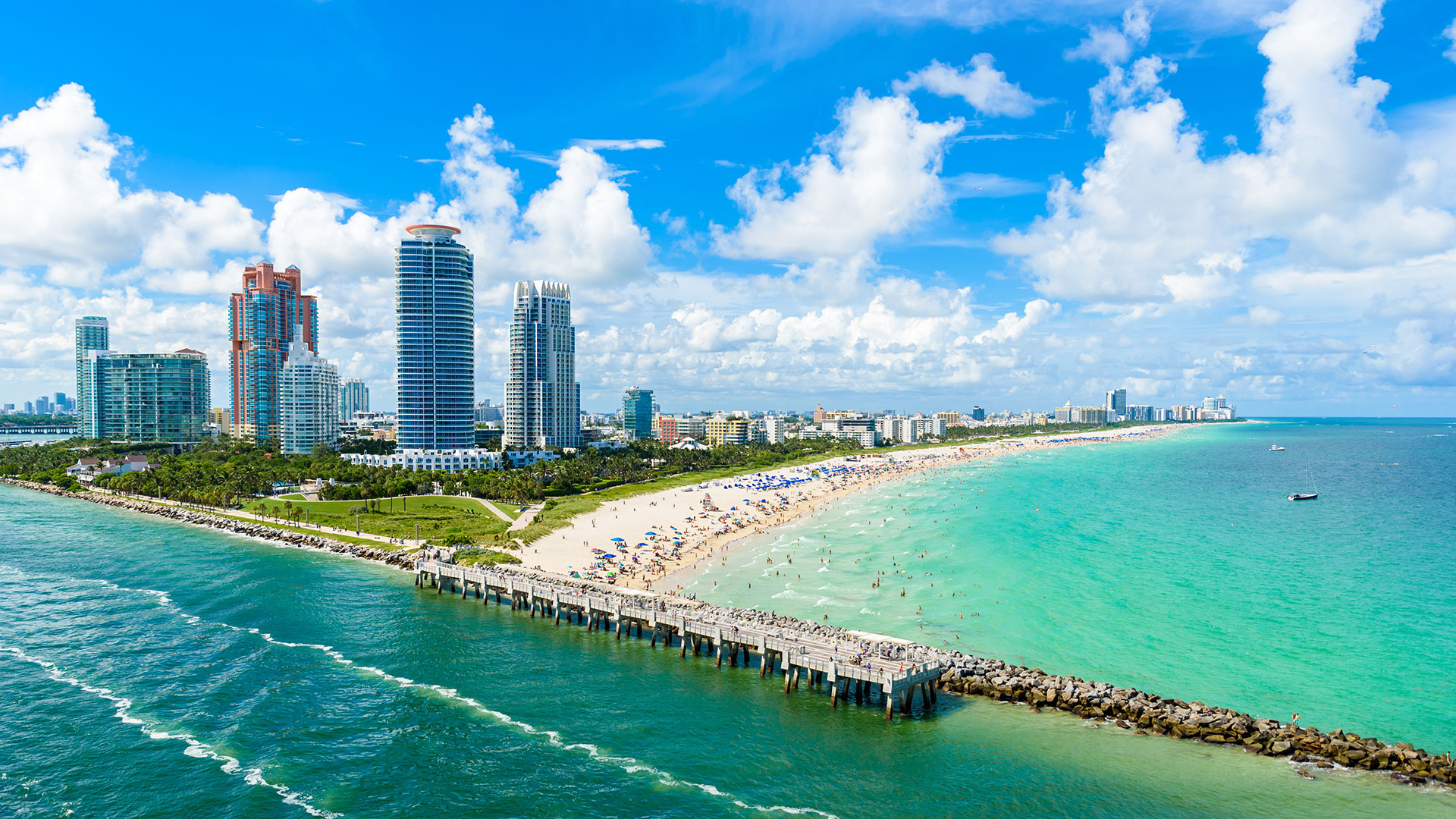 South Pointe features a white sand beach, trails, playground, refreshing water features, dog park, and some of the most breathtaking views of the Atlantic Ocean!
Did you know. South Pointe Park Pier, with its incredible 17 acres, is considered the greenest natural paradise in the entire area.
#RoyalTip: This place is ideal for organizing an outdoor picnic. If you're in the mood for this idea, we suggest that, instead of setting up on the sandy beach, you find a free space on the grass – this way you'll avoid unwanted sand in your food!
SUNNY ISLES BEACH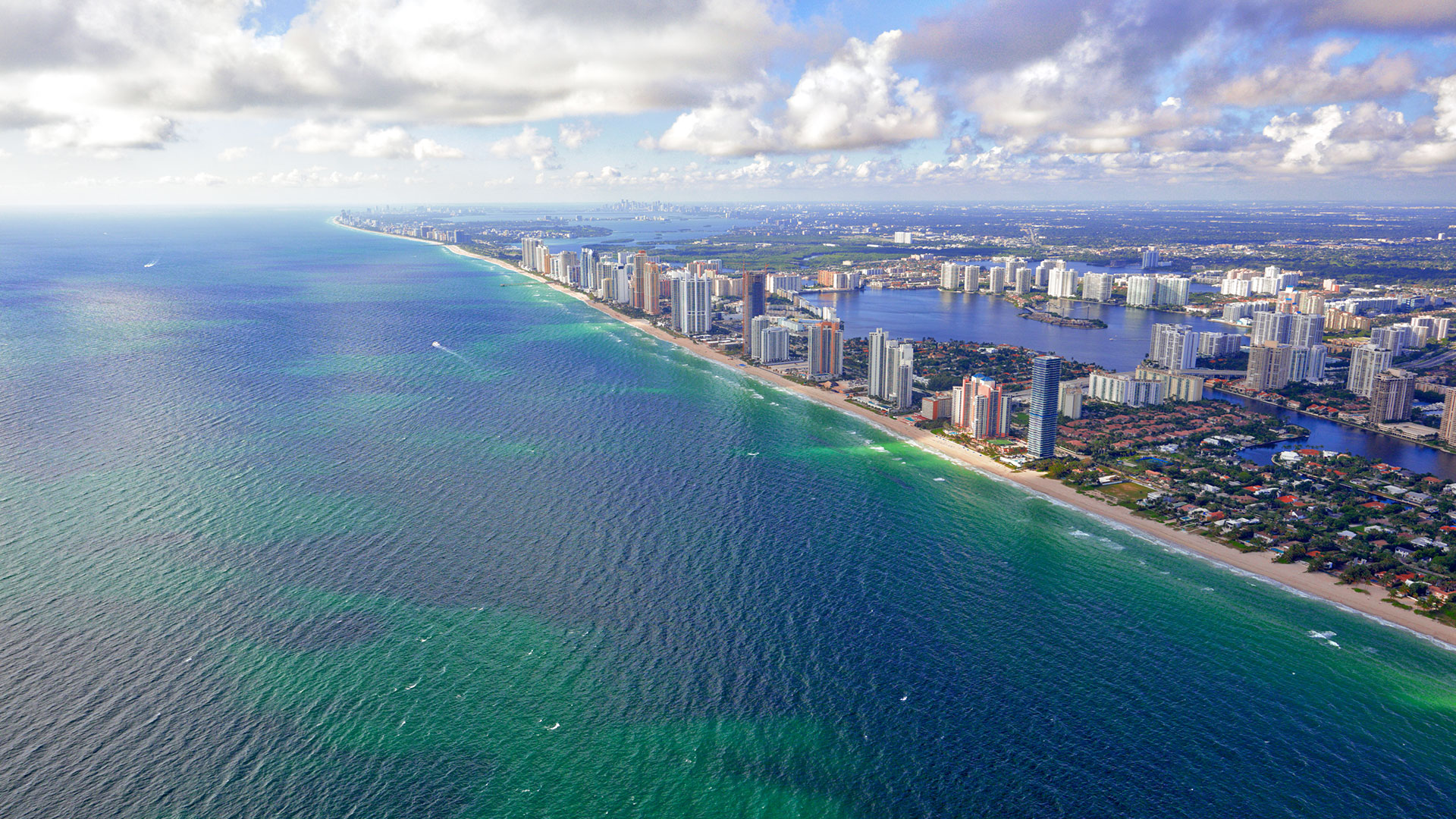 Sunny Isles is a beach with crystal clear waters and a beautiful pier not to be missed by fishing enthusiasts.
Located between Miami and Fort Lauderdale, this beautiful area has two miles of soft sand, and a myriad of activities to do!
From swimming to sunbathing, snorkeling, diving, jogging, kite surfing, playing a game of tennis or golf, we assure you that it's almost impossible to get bored here!
#RoyalTip: If you are a wellness lover and a bit fit, on Wednesday mornings, free yoga classes are offered at the Samson Oceanfront. What a way to start the day, don't you think?
SURFSIDE BEACH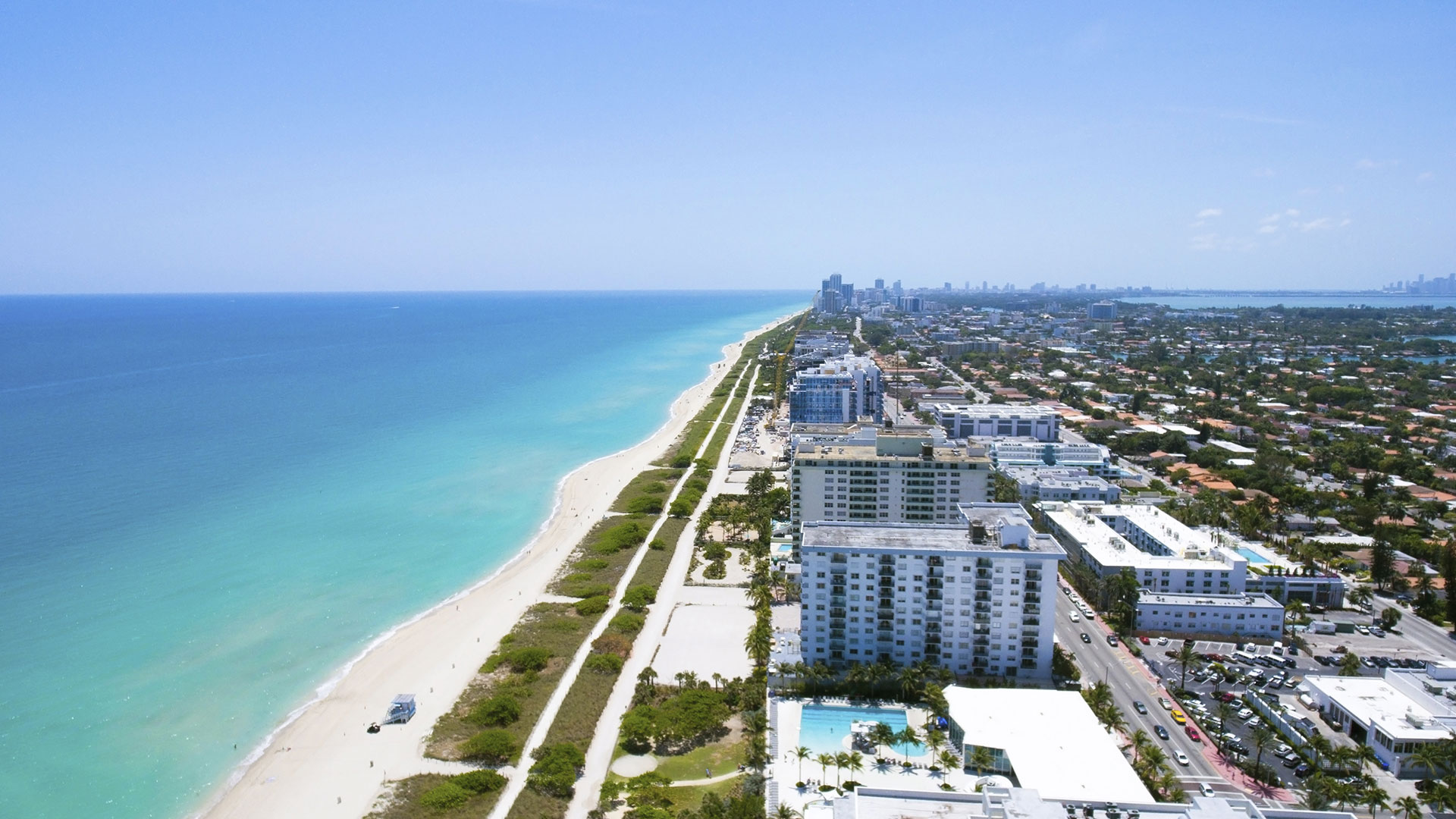 Welcome to the last beach we will talk about on this blog.
Boasting a mile-long stretch of sand, this place is known by locals as the "beach town of uptown Miami".
Enjoy its calm and relaxed atmosphere, visit its boutiques, taste the tasty food of its restaurants or sunbathe while strolling through downtown.
As its name suggests, this beach is ideal for those looking to surf or any of its variants; however, here you can also skate and swim at any time.
As you can see, Miami has various truly unmissable beaches. Now, and trying to answer the question about which is the best beach in the city, the answer would be… The one you choose!
Let us know, which of these beaches will you visit first? Share your vacation experiences with us, and don't forget to follow us on social media!
Facebook
–
Instagram
Book through our website:
www.royal-holiday.com
and keep on traveling with your Royal Holiday membership.