The Holiday that had to be?  Or perhaps you missed your holiday altogether? 2014 has been spectacular, but if you're
still holding 2014 Holiday Credits
– don't despair. There are not only some terrific opportunities for the remaining months – but even a last minute to chance to roll over Holiday Credits – from this year to 2015! Don't forget. You've got to call to get it done!
This month's
specials
are still good – for
Cancun
, the magnificent
Riviera Maya
, in
Paris
or in
Rome
and all with outstanding specials – before the end of this year! If you're sure you won't be going – don't fret! You can still roll over this year's Holiday Credits – and take that
much more holiday next year
. Some restrictions will apply – but the most important one is this: You've got to call before December 31. It's free, it's effective – and you can roll over 100% of a given year's credits – but you can only do it every other year. The
Costa Diadema
will sail from beautiful Barcelona, already, on March 30. For seven nights she'll take in some of the most incredible Mediterranean ports of call. Royal Holiday travelers wil be among the excited crowd onboard, and they're paying from just
5,143 Holiday Credits
for the whole thing. Now that's quite a deal. No matter where you're going – or for how long – this fall and winter – or anytime in the New Year, your smart phone is going to make it better. These are
the most useful apps
– and tips for how to work them before you go – and when you're well on your way. Last – because we bet you've been there – this is the
Park Royal Cancun
. It's legendary. It's always the number one hotel in the Royal Holiday collection – and it's been known to break a hear tor two. The video ought to remind you. There's a lot more to Cancun than just a beautiful beach.
Bon Voyage!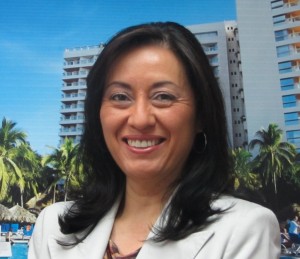 Laura Arango
European Member Services Manager
Royal Holiday