We know that keeping track of your points is really important; therefore, we prepared a document that will help you keep your numbers in check in a simple yet effective way.
This edition will be fully dedicated to the presentation and explanation of your Holiday Credits Balance. Let's go!
ACCOUNT DATA
The first part of this document gathers all exclusive info on your membership; in other words, it shows your account's very own details.
Your name, member and contract number, membership level, as well as the amount of Holiday Credits granted to you per year, their validity, and the date of issuance of the document can be found here.

HOLIDAY CREDITS BALANCE
This second section of your statement is divided in two segments:
1) The first, shows the number of points you have in your membership and, 2) The other, indicates the number of Credits that you have already used in your reservations.
Important! Remember that your membership can have various kinds of Credits in it, among which you will find:
Annual Credits: Granted for covering your Annual Fee in a timely manner.
Accumulated Credits: Those rolled over from one year to another, which are also subject to the accumulation policies.
Extra Credits: Additionally acquired Credits granted by covering their corresponding cost.
Reward Credits: The ones assigned to your membership as a reward for your loyalty! Promotions, special offers, online reservations, timely payments and more will grant you these.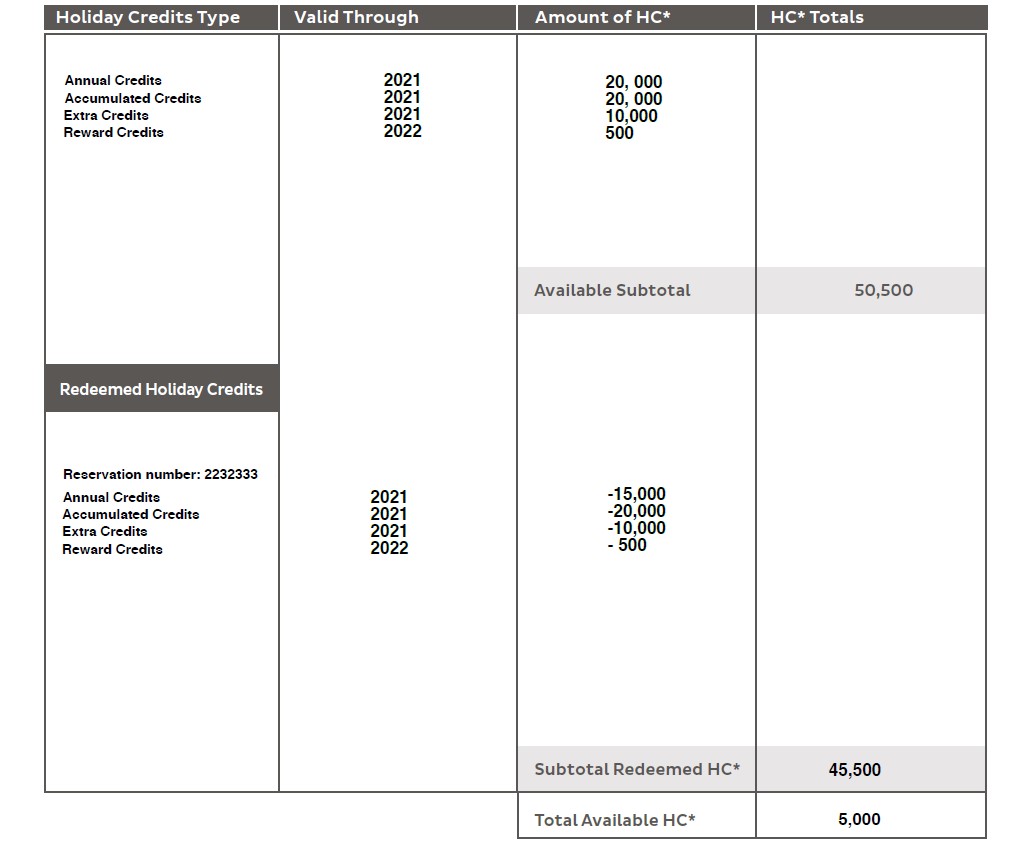 GENERAL INFORMATION
You will find this final section right at the bottom of the document, which is dedicated to showing messages that we, your Vacation Club, know to be relevant and, therefore, wish to communicate to you in a simple and accessible way.
Remember that this and other files are available to you within your online account. You will only need your members number and password to access!

ON VIDEO
Before we close this new chapter on our News, we highly recommend you watch the following video and, if you have any further questions, do not hesitate and contact your Holiday Advisor:
Share your vacation experiences with us, and do not forget to follow us on social media! Facebook – Instagram
Book through our website: www.royal-holiday.com and continue traveling with your Royal Holiday membership.