Start enjoying your membership by reserving your first holiday getaway! We´ve prepared the following information just for you. Where are you dreaming of going?
Pacific, Caribbean or the Sea of Cortés Mexico is home to over 11,000 km of coast divided between these regions. Discover all of them and choose your favorite.
Mexican Pacific

The average temperature of the Pacific coast is 30°C. The bays are large, gold-sanded and relatively shallow. The region is known for its unpretentious cities, its big hotels mixed with the traditions from the past, when the cities were still small fishing towns or plantations. The only exception is Acapulco, which was already a popular international destination in the 1940s. The food found along the Pacific is some of the best in the country, and all the destinations are perfect for scuba diving, fishing and surfing. Puerto Vallarta
Famous for its cuisine and sculpture-filled promenade
Stay at Park Royal Puerto Vallarta
All-inclusive plan, beach, pool, gym, tennis court, restaurants, bars and spa
Or at Park Royal Los Tules
European Plan, beach, gardens, pool, tennis court, restaurants
Ixtapa
Beautiful beaches and 18-hole golf course
Stay at Park Royal Ixtapa
All-inclusive plan, beach, pool and water games for children
Huatulco
Has 36 beaches in 9 bays and is an adventure-filled destination with activities such as snorkeling, rafting and fishing
Stay at Park Royal Huatulco
All-inclusive plan, beach, balcony suites, spa and pool
Acapulco
This port city offers 24 hours of fun and a world-famous show: the divers at La Quebrada.
Stay at Park Royal Acapulco
All-inclusive plan, beach, spa, pool, water games for children and absolute safety for you and your loved ones
Mexican Caribbean
One of the most visited regions in the country, its white-sanded beaches, perfect climate, and infinite attractions, like restaurants, malls, scuba diving and fishing, will make you never want to leave. And don´t forget to visit the beautiful archeological sites, cenotes and nature parks!
Cancun
The jewel in the crown of Mexican tourism, with some of the most stunning beaches in the Caribbean
Stay at Park Royal Cancun
All-inclusive plan, beach, spa & fitness center, pool, and water games for children
Or Grand Park Royal Cancun Caribe
All-inclusive plan, Grand category, 500 meters of Caribbean beach, suites, villas, pools and restaurants specializing in a variety of different cuisines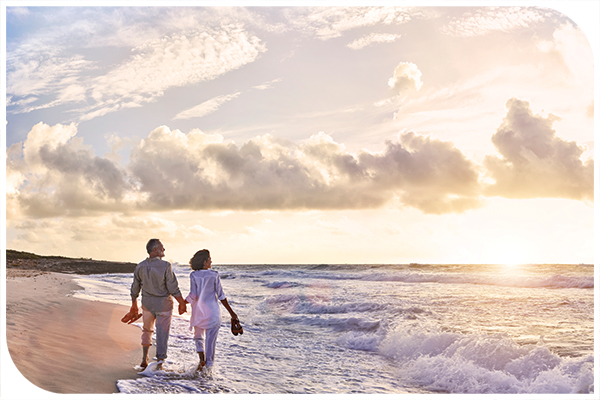 Cozumel
One of the best destinations for scuba diving and snorkeling in the world due to its extensive coral reefs
Stay at Grand Park Royal Cozumel
All-inclusive plan, Grand category, 4 restaurants, 3 pools and direct access to the beach
Sea of Cortés
Rich in biodiversity and famous for its fishing tournaments and the quality of its seafood, this area receives thousands of whales in winter that migrate all the way from Alaska. Admiring them is an unforgettable spectacle.
Los Cabos
This destinations isn´t solely its beaches, it´s also famous for the numerous events that take place there, like million-dollar fishing tournaments and all types of festivals including food festivals, film festivals and art festivals.
Stay at Park Royal Los Cabos
European plan, located on San José del Cabo golf course, suites with kitchens, restaurants specializing in a variety of different cuisines, and pool
Mazatlán
This cobbled street city filled with churches is home to both a spectacular carnaval and the freshest seafood in Mexico.
Stay at Park Royal Mazatlán
European plan, located in Mazatlán's marina, close to golf course, rooms with ocean views, warm-watered pool and spa
Tips for choosing your dream cruise

Thanks to our affiliation with the biggest and most prestigious cruise lines, you can make your dream cruise come true. Learn about Royal at Sea and get on board.
Check the Cruise menu at our webpage www.royal-holiday.com. There you´ll find different destinations, cruise lines, dates, and departures. You can also find the initial rate for your holiday credits.
The routes for the Caribbean, Alaska and the Mediterranean, are amongst the most popular, which is why you´ll find more options for these destinations.
Make sure to check what your cruise includes:
The rate for holiday credits is for 2 passengers in and interior cabin. If you want a cabin with a balcony and ocean view, for example, you´ll have to pay more.
Consider the rate for the All-Inclusive or Cruise Fee: they are per person and generally don´t include taxes, tips, canned drinks, alcoholic beverages, insurance, spa, special activities or restaurants specializing in a type of cuisine.
Have you decided? Make a reservation online or call your holiday advisor at (01-55) 5627 8800.
We hope you find this information useful. Book your first holiday getaway and take advantage of your Royal Holiday membership.