annual membership fee!
Late fees always feel like such a tragedy! Speaking of avoiding tragedy, Hurricane Odile made short work of one of the all-time favorite annual Royal Holiday haunts – the
Park Royal Los Cabos!
Closed for almost three months after Odile's less than friendly visit – the hotel is again welcoming Holiday-ers – for golf, for sun, for Baja fun and a lot more.
Big beautiful condo-style rooms
, a stunning pool and right smack in the middle of San Jose del Cabo,
the Los Cabos Holiday often stretches to two or even three weeks.
And there's this month's video to show you why. But then,
if getting away big and bold is your plan
, Royal Holiday travelers are flocking to the Caribbean – in Mexico. There's always more to learn, see and do in this stunningly beautiful and fantastically undiscovered region of the world.
Big, Beautiful
discounts are happening too, in London, in Orlando and in Madrid.
This month's Cruise
is no less than the Serenade of the Seas, Royal Caribbean sailing 7 dream-filled nights from just 15,000 Holiday Credits! You'll find these specials, plus everything you need to plan ONE, TWO or EVEN THREE WEEKS OF 2015 HOLIDAY – on the website! And to really to get the most out of 2015 – it's in your interest to sign up on the website – get more of the bonuses available – and get going again. Of course, Member Services is always ready to help if you get stuck anywhere along the way. Wishing you the very best for a Happy and Prosperous 2015,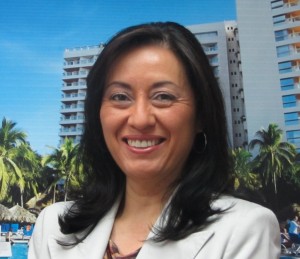 Laura Arango
Europe Member Services Manager
Royal Holiday
2015 is upon us and Royal Holiday travelers have just enjoyed one of the most traveled Holiday Seasons in Club history. This coming year promises to be just as well traveled, and whether you're going near or far, it all starts with that dreaded