With June upon us, already, Royal Holiday members are looking to September and October – and even later – for that next truly Royal getaway. Royal Holiday's Membership Services offices in Madrid will be operating on Summer Hours – daily from 9:00 to 17:00. They'll be happy to hear from you! You can also plan your next vacation 24 hours a day on the Royal Holiday website. Forever evolving – the website now allows members to search alternative dates – no matter what original dates you punch in. There are nearly always other similar dates available and the new system will not only suggest alternatives – but reward you with 500 Holiday Credits whenever you book for more than 5,000! How's that for a deal?
And what about New York City?
The Manhattan Club
in way upper midtown Manhattan may be just the thing to draw you back. It's still the Big Apple, and there's always a ton of things to do, but knowing Royal Holiday travelers, you'll head back for something totally unexpected, unpredictable and unforgettable. The newest NYC Royal Holiday is right here and it's ready! If you're thinking more sun and sand check out the Grand Riviera Princess. The newest hot spot welcoming Royal Holiday travelers to the
Riviera Maya
and sunny Playa del Carmen – also has free room upgrades for a very limited time. It may seem altogether irresistible, but this is not like the last All-Inclusive you remember! Your Membership is raring to go, but what about you? There are ideas aplenty – and good reasons to go too. This issue of the News is dedicated just to finding out something new for this year's Holiday and for getting going!
Bon Voyage!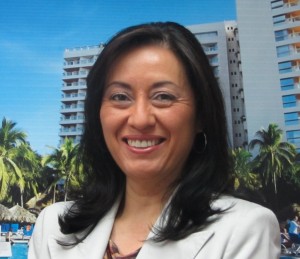 Laura Arango
Europe Service Manager
Royal Holiday