planning a holiday
– can plan one that's even better than the last. In short – we're planning a Royal Holiday. This month, you can see which were the five
most popular destinations
with Royal Holiday travelers from all over Europe – and with a couple of surprises! There are plenty of beautiful places and this year Royal Holiday members are shacking up in some of the very best. See where European members are most likely to be and how you can join them – or make a break for somewhere completely new. Every month, more and more Royal Holiday travelers are also taking to the high seas. Though the European cruise lines are some of the best known, one American upstart is increasingly the cruise line of choice:
Princess Cruises.
With a combination of class, excellent service, exciting itineraries and onboard activities, it's quickly grown into one of the most popular cruise lines with all Royal Holiday travelers. Best known for trips to
Alaska
, you better believe they do
Europe.
Check the website for regular cruises with Princess or any number of other superb cruise lines. Of course, every cruise includes some of classic Hollywood favorites on the silver screen, and sometimes what's being screened can be a real eye-opener. That's particularly true when some of your favorite land-side vacation spots show up in the back ground. You'll be pleased to see how many of your own favorite
Royal Holiday destinations
have been featured in films, old and new. A must-read for the cinephile. Of course, monthly promotions mean you can go sooner for a lot less. This month is no exception. Royal Holiday members are taking off for some old favorites and for some very new and exciting blockbuster. Check out this month's promotions to see where you can get going, but get planning. These specials will fill up very quickly. Like always, all Royal Holiday members are reminded that planning a truly Royal Holiday can take some time. If you haven't booked 2014 yet, the time to work out the details is now. Your travel club is working day and night to make sure your next holiday is worthy of the name, so let
Membership Services
know when you're ready to go. Membership Services is always happy to hear from you. If your next holiday is ready to move out of dry dock, let us know. Until then, happy planning and
bon voyage!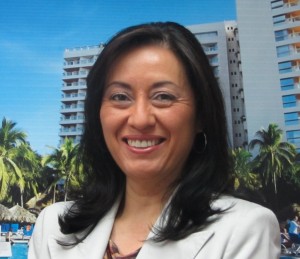 Laura Arango
Europe Service Manager
Royal Holiday
Every month, Royal Holiday strives to deliver more information so that members – who are nearly always