One of the most beautiful destinations on the planet, the Caribbean surrounding the Yucatan Peninsula is ideal for vacationing with friends, family, or as a couple. Leaving you speechless at every turn, it is home to spectacular beaches and landscapes caressed by the sun. The Mexican Caribbean is not just a vacation icon, but an affordable, peaceful, and magnificent holiday retreat.
COZUMEL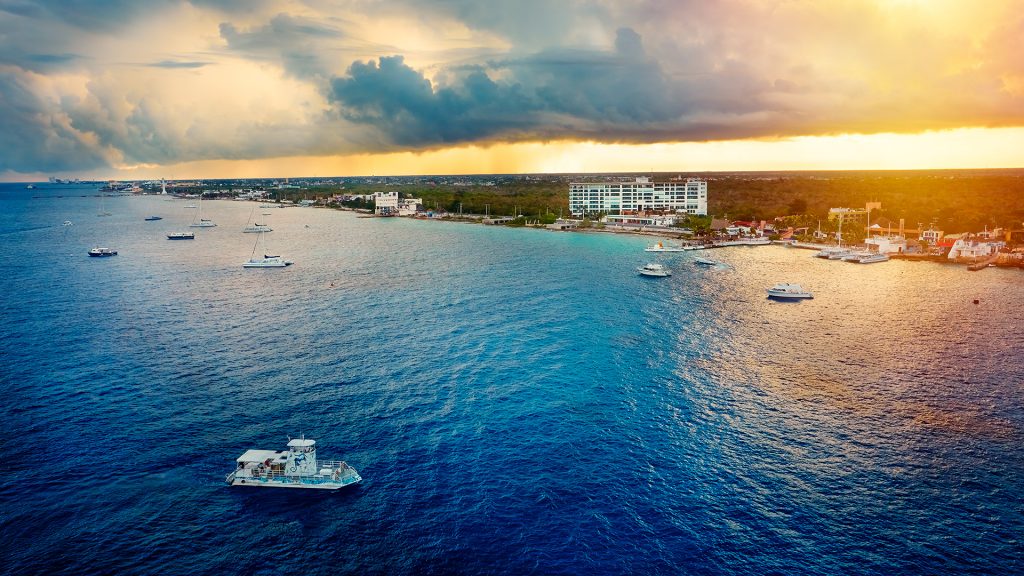 Cozumel is home to white-sand beaches lapped year-round by crystal clear waters. With temperatures ranging between 24 and 33C (75 – 91F), it is world-famous for its coral gardens and perfect conditions for snorkeling and scuba diving. As a fully developed vacation island, guests can also enjoy kitesurfing, golf, cycling, canoeing, and kayaking.
The village of San Miguel, at the center of the island, is a perfect option if you're looking for some fine dining or a night out on the town. Stroll the boardwalk to gaze at the multiple monuments and public sculptures on your way to the see the numerous artisan markets.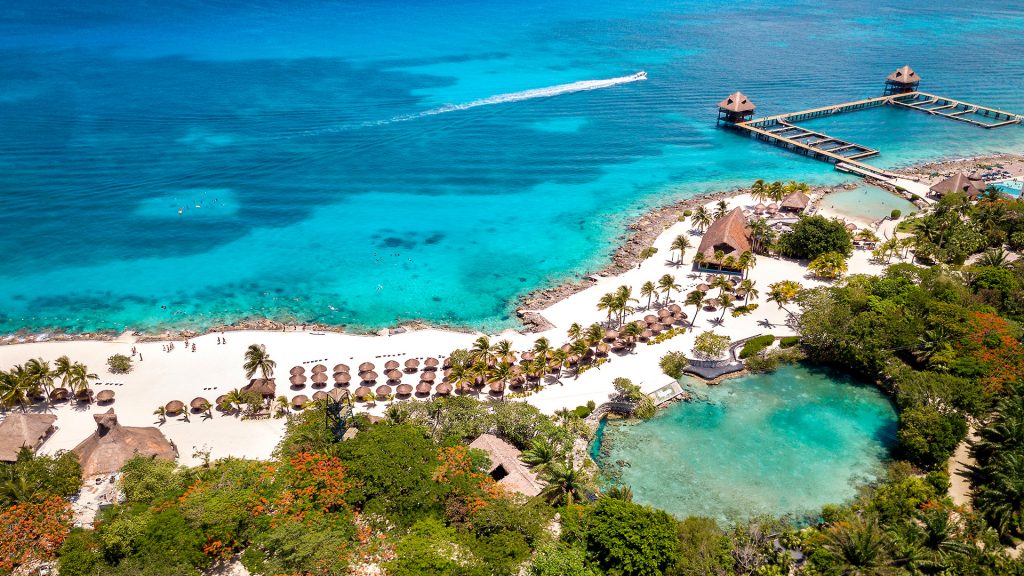 If adventure is your thing, the Chankanaab Beach Adventure Park awaits you with all kinds of animals, including a sea lion exhibit and an exotic jungle that surrounds the whole park.
The Maya civilization occupied and built about 36 cities on the island. Glimpses of these can be seen at a few important archaeological sites. San Gervasio, to the north of the island and El Cedral, a sacred ceremonial site which still boasts original wall paintings, they both welcome visitors to truly ancient surroundings. Nestled in the middle of the jungle, guests arrive on a walking tour, on horseback or off-road vehicles.
International guests to the island stay at the magnificent Grand Park Royal Cozumel. With award-winning Maya-inspired interiors and architecture, guest rooms meet the highest standards of luxury and comfort. Swimming pools include an infinity pool with a direct view of the beach, and a main resort pool. Two whirlpool baths also flank the popular beachfront deck and lounge area while tykes take to their own pool with a sliding board. As an all-inclusive resort guests are feted with unlimited food and drinks in no fewer than four specialty restaurants spread out from the main resort dining room, La Veranda. Evenings start early – there is a lot to celebrate – and with five cocktail lounges, just pick one and enjoy the beautiful sunset.
ISLA MUJERES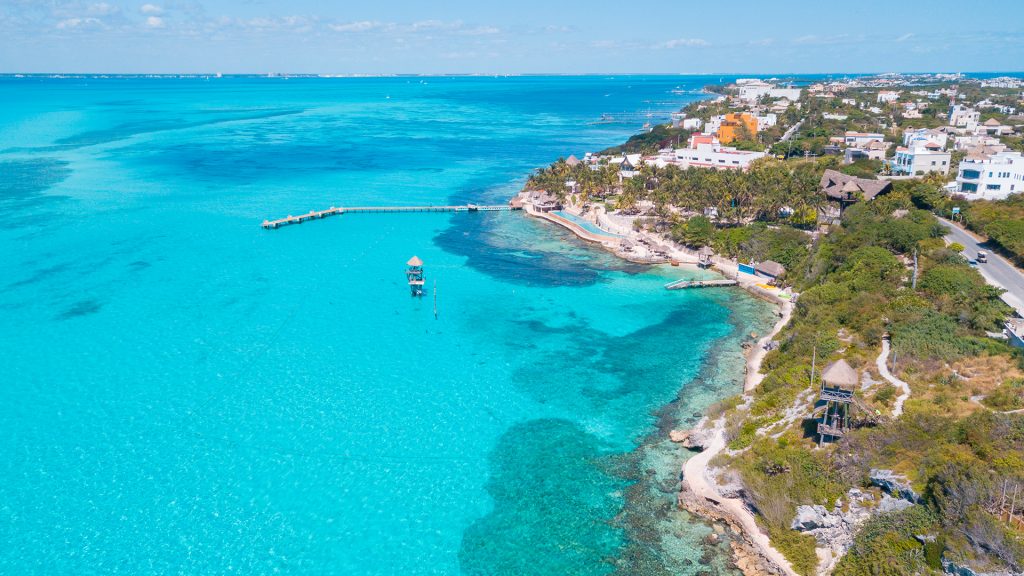 Isla Mujeres is the first place in the Yucatan Peninsula touched by the sun each morning. Measuring eight kilometers (about 5 miles), this is a tiny island paradise full of activities for every stripe of holiday-goer. Guests take to the beach, to kite surf, or explore the lush jungle! You can also get to Playa Norte by bike.
Playa Norte is most famous for its beauty and tranquility. At this spot, guests get access to diving equipment rentals, hiking, and ocean kayaking.
As exotic as exotic gets, visit the Garrafón Reefs Natural Park for a spectacular diving and wildlife sighting adventure. Vacationers can swim with the dolphins or submerge themselves for the world's only Underwater Museum of Art.
TULUM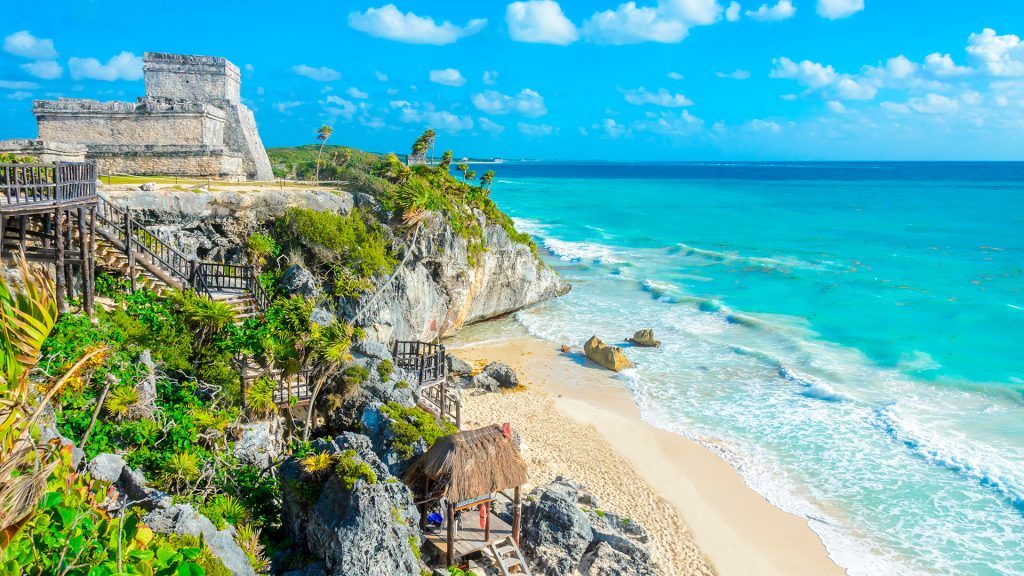 Tulum is an ancient and exciting attraction in the very heart of the Riviera Maya, about 130 kilometers (80 miles) away from Cancun. Getting here means you will be traveling to a spectacular stretch of the Caribbean coast. A walled city built in the 13th century; it was an indispensable commercial hub during the area's ancient past. We recommend you pay a visit to El Castillo and the Temple of the Frescoes, where vibrant paintings still grace the walls in shades of dramatic gray and blue.
ACCOMMODATIONS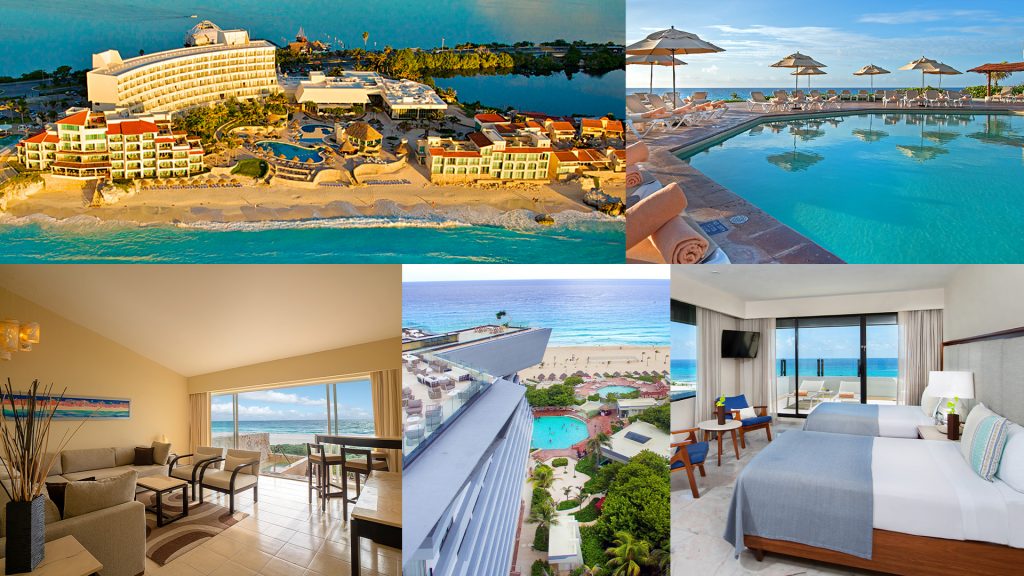 Royal Holiday guests arrive to these marvelous locations either from Park Royal Beach Cancún or Grand Park Royal Cancún. Both hotels are recent winners of the Travelers' Choice 2020 award, a recognition from TripAdvisor for the most consistently positive reviews of all resorts in the world.
All-inclusive to the nines, both resorts provide guests with the Yucatan's most comprehensive meal and drinks plan. A Kid's Club allows for the tykes to have their own space, always looked-after by our highly-trained staff.
The legendary Park Royal Beach Cancún is still the most returned to resort in the Caribbean, with more guest coming back for the value and the fantastic attention to vacation detail. Guests take to aquatic sports and, of course, lots of sun! Swimming pools include two for grown-ups and one with waterslides for the kids. Four specialty restaurants mean that no one goes hungry. And four cocktail lounges are the perfect meeting point for friends or family. Across the street is Cancun's liveliest shopping center, La Isla, with some of the area's most exclusive shopping deals happening every day.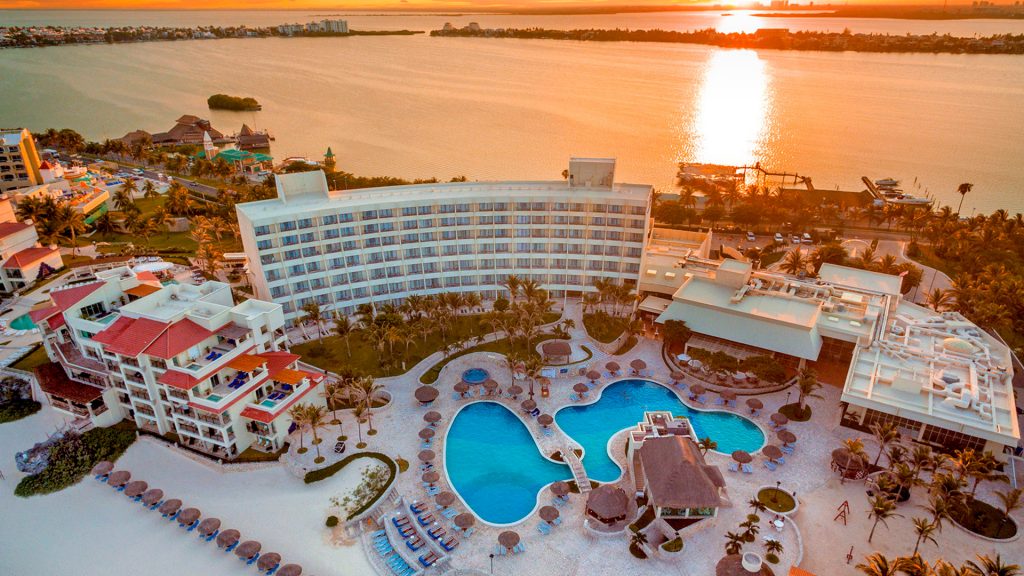 The Grand Park Royal Cancún is a luxury resort that competes at the highest international standards. With guest rooms including adult-only buildings, and many with exclusive amenities and extras, it is a vibrant place to stay. With All-inclusive, you need not to change money, or even carry a wallet or handbag. It is that Good!
Culinary offerings are as broad and thoughtful as anything you've experienced:
GRAND PARK ROYAL CANCÚN
The COCAY, the international heart of the resort
FLOR DE SAL, Mexican food at its finest
EL MIRADOR, Mediterranean and Italian fare
GRAND PRIME RIB HOUSE, fine and select beef cuts and more
EL ORIENTAL, The world's most ancient cuisine
*4 Cocktail Lounges
PARK ROYAL BEACH CANCÚN
LA VERANDA, International fare and resort meeting point
EL PESCADOR, Seafood and Shrimp
FRIDA, Fine Mexican Cuisine
ANDIAMO, hearty traditional country Italian fare
*4 Cocktail Lounges
Vacations at Park Royal Hotels & Resorts are protected by the SAFE GUEST PROGRAM, an initiative undertaken in cooperation with Cristal International Standards. It is a strict hygiene and disinfection program administered throughout all our hotels to ensure the health and safety of your family and yourself.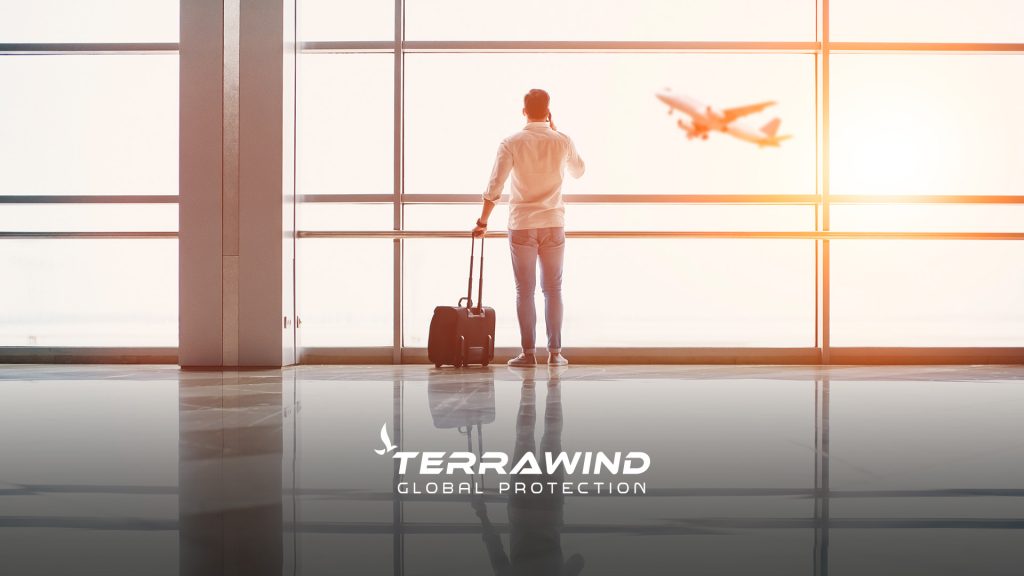 Travel protection lets you avoid any kind of incident. Terrawind offers multiple benefits including complete travel insurance so that your holiday is completely worry-free. Call your Holiday Advisor today for booking and the holiday you deserve, anywhere on the Caribbean, and don't forget that with Royal Holiday you'll #TravelToLive