Did you wake up wanting to go on a vacation? Today we'll tell you about the best way to have fun in your trip to "the Island of the Swallows" without having to worry about anything, and of course with the best safety measures! Without a doubt, in Grand Park Royal Cozumel, a safe trip waits for you. Let's go! 
BEHING YOUR SAFE STAY 
Since last year, and with a lot of help from our collaborators, our home hotels, Park Royal Hotels & Resorts, started the Safe Guest program to make sure you and your loved ones were safe all-in time in our installations. 
The Safe Guest program is already active in all our hotels, and it establishes all the strict hygiene and safety measures that we follow. This way we guarantee that, in our hotel, your stay will be secure for you and all your family members. 
IN YOUR ARRIVAL 
Sanitizing mats, hand sanitizer, luggage disinfection, and checking body temperature are only a few safety measures that we take when our guests arrive. During the Check-in, you'll notice how the zone is disinfected right after being used to make sure that the check-in process is attentive to all of our members and guests. 
LUNCH AND DINNER TIME 
We know that food is fundamental for an unforgettable vacation, and after a long flight or drive, we always want a good meal.  
At this moment, all our bars and restaurants have specific opening schedules with a limited number of guests, which helps us keep the social distance all the time.  You'll also be getting hand sanitizer on your arrival and once you're seated you'll receive your silverware fully sealed. 
Important note: All our buffet have staff members assisting the serving to facilitate the service, maintain everything clean and keep it as safe as possible.  
SPEND TIME AT THE POOL 
A trip to the beach isn't complete without a refreshing dip in one of our pools; because of this, we have also implemented safety measures in these areas.  
At the beach and pool there are sets of 2 lounge chairs separated 5ft from each other, the amenities (such as chairs, tables, lounge chairs, etc…) are disinfected after every use and the bathrooms are constantly being cleaned. 
A GOOD NIGHT SLEEP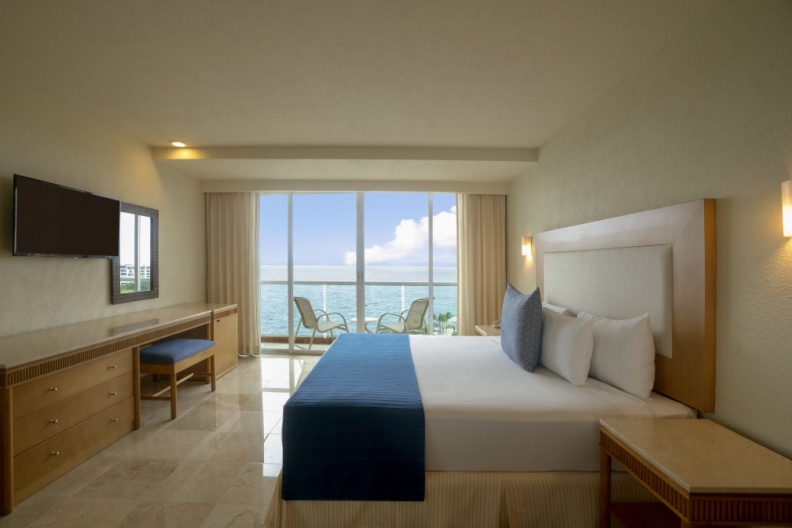 When you enter your room, you'll find the door sealed with our distinctive Safe Guest Program. This means that all the elements in your room have been cleaned and disinfected with hospital grade products ECOLAB. 
Important note: During your stay, the cleaning services and maintenance will only take place when you aren't in your room. This way, our staff members will be able to follow all of our safety protocols step by step. 
Do you still have doubts about traveling to this amazing destination? We recommend you read: What to do in Cozumel? We are sure you'll love them.  We can't wait to see you soon in Grand Park Royal Cozumel! 
Share your experiences with us, and don't forget to follow us on social media! Facebook — Instagram 
Book your stay through our website: www.royal-holiday.com and keep traveling with your Royal Holiday membership.